The Superior Choice: Best Crosley Record Players for Vinyl Enthusiasts
For budding vinyl enthusiasts and seasoned record-collecting veterans alike, Crosley turntables have emerged as a top choice, offering excellent sound quality and optimal performance. Whether you're looking for your first turntable or you're an experienced vinyl enthusiast seeking an upgrade, you'll likely find the best Crosley turntable to meet your needs.
This article will guide you through the best Crosley record players, highlighting their features, performance, and how they can enhance your vinyl record listening experience.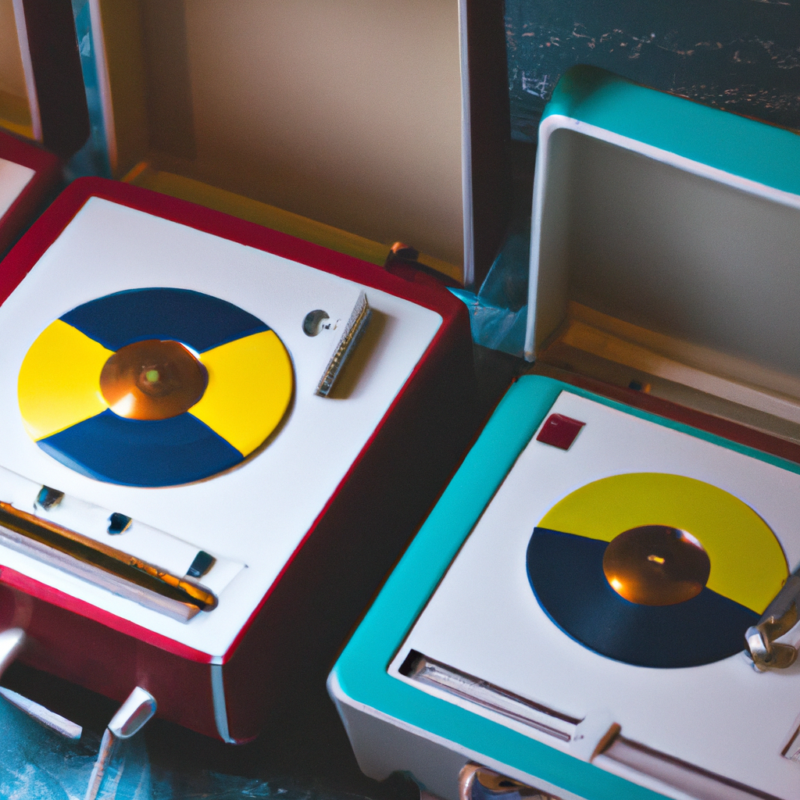 Are Crosley Turntables Good?
Crosley turntables are a popular choice among both experienced vinyl enthusiasts and budding vinyl enthusiasts. They offer a range of turntables designed to meet different needs. Many vinyl lovers appreciate the vintage aesthetic of Crosley record players, which pays homage to the golden age of vinyl records.
However, the best Crosley turntable for you depends on what you value in a turntable. If sound quality is your top priority, you might want to invest in a Crosley turntable with excellent sound quality. These models often come with external speakers to provide a quality listening experience. For those who value portability and convenience, there are also lightweight and compact models available.
While your Crosley turntable might not impress seasoned record-collecting veterans, it's a great beginner record player. The best Crosley record players deliver better sound quality than many entry-level record players, making them the right record player for quality sound and optimal performance.
Best Crosley Record Player Reviews
Crosley C62B-WA Vinyl Turntable with Bluetooth
This two-speed turntable is equipped with a low-vibration, belt-driven motor that ensures smooth operation at both 33 1/3 and 45 RPM.
The aluminum tonearm, fitted with a moving magnet cartridge, boasts an adjustable counterweight and anti-skate control. The turntable base houses a built-in amplifier and a switchable preamp. With the RCA output, you can seamlessly incorporate the Crosley C62B-WA into your existing audio setup or utilize the speaker clips to connect the included speakers.
The device is built on a solid foundation, with a heavy steel platter and an audio-grade MDF plinth firmly set on three vibration control feet. A built-in Bluetooth feature adds a modern touch, allowing you to stream music directly to the speakers. The turntable is powered by corded electricity, ensuring a stable and uninterrupted performance.
Crosley C100BT-BK Belt-Drive Bluetooth Turntable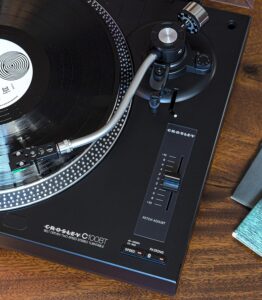 This turntable merges the traditional vinyl experience with the convenience of digital music. The Crosley C100BT-BK is a belt-driven turntable, a feature that reduces vibration and enhances sound quality. Its adjustable tonearm counterweight ensures that the needle is balanced correctly on the vinyl, providing an optimal listening experience.
A standout feature of this model is its Bluetooth out capability, which allows seamless connectivity to your preferred wireless speaker. This is complemented by a built-in preamp, enabling you to plug into any stereo or powered speaker system. Moreover, the low-vibration synchronous motor and vibration control feet guarantee a smooth play every time.
To top it all off, the Crosley C100BT-BK comes with a high-performance Audio-Technica AT95E cartridge. This cartridge offers outstanding clarity and precision, elevating your vinyl experience to new heights.
Crosley T150A-WH Modern 2-Speed Bluetooth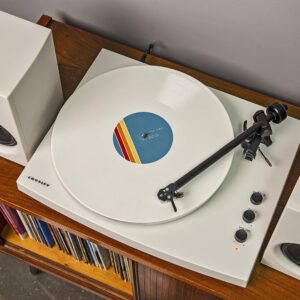 This record player doesn't just play your favorite records, it brings them to life with its 30-watt speakers. It's more than just a vinyl player, it's a complete, easy-to-set-up 2-speed turntable that comes with its own stereo speakers.
The built-in Bluetooth receiver allows you to stream your favorite music wirelessly, enhancing your listening experience. But the Crosley T150A-WH doesn't stop at just offering a great sound, it also gives you control over your analog listening experience.
With a pitch control knob, an aluminum tone arm with adjustable counterweight, and RCA outputs, this is a turntable designed for true music lovers. Its moving magnet cartridge uses a standard 1/2″ mount, pre-mounted and aligned at the factory, so you can switch up cartridges easily.
Cruiser Deluxe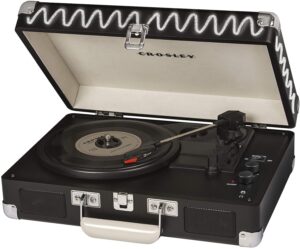 This vintage record player is a testament to the timeless appeal of retro audio devices.
The Cruiser Deluxe distinguishes itself with an in-built Bluetooth receiver, offering a seamless blend of classic design and modern technology. This feature allows users to stream music wirelessly to the Cruiser's dynamic full-range speakers, enhancing the auditory experience.
The adjustable pitch control ensures audio precision and the three-speed belt-driven portable turntable accommodates 33 1/3, 45, and 78 RPM records. Complete with RCA and headphone Jack outputs, this vintage turntable offers versatility in usage, catering to a range of personal preferences.
The Cruiser Deluxe thus offers more than just nostalgic charm. It's a perfect blend of vintage appeal with contemporary features, designed for those who appreciate the warmth of vinyl records in this digital age.
Conclusion
In conclusion, Crosley turntables offer a quality listening experience for both experienced vinyl enthusiasts and beginners alike. These record players deliver excellent sound quality and optimal performance, making them some of the best record players on the market.
The Crosley C62B-WA Vinyl Turntable with Bluetooth, Crosley C100BT-BK Belt-Drive Bluetooth Turntable, Crosley T150A-WH Modern 2-Speed Bluetooth, and the Cruiser Deluxe are our top picks.
Whether you're a beginner record player user or a more seasoned vinyl lover, there's a Crosley turntable that will suit your needs. The key is to ensure that your Crosley turntable is properly set up with quality external speakers to achieve better sound quality.
Related articles:
Our Mission: At AudioInspects, we are dedicated to providing the most comprehensive and authentic reviews of audio equipment on the market. We conduct independent testing and research of products, so you can make an informed decision before making a purchase. Our mission is to help you find the best audio equipment to improve your listening experience. So trust us to deliver the most reliable recommendations and advice.
Disclosure: When you do decide to make a purchase through our links, please note that we may earn a commission, but this does not affect the honesty of our reviews. You can read our affiliate disclosure in our Disclosure.