What Are Bone-Conduction Headphones?
Ever wondered what are bone-conduction headphones? These work fascinatingly and uniquely that's truly different from your average pair of earbuds.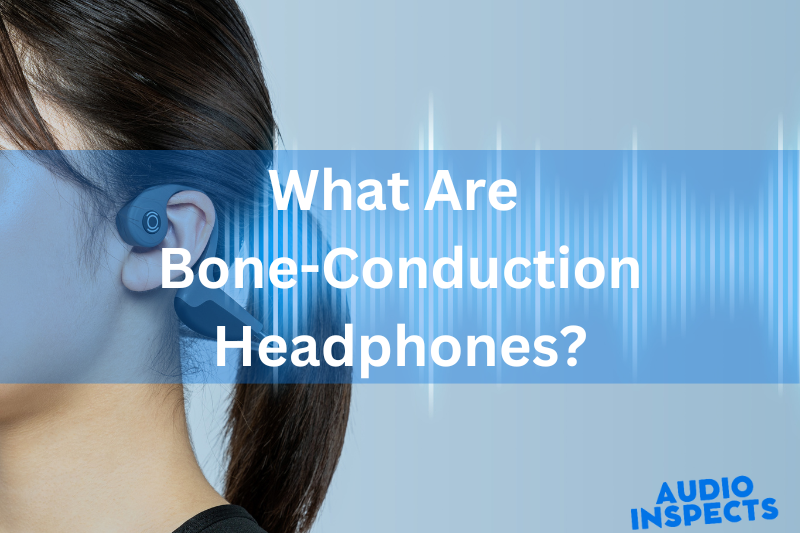 Overview of Bone-Conduction Technology
To fully appreciate bone conduction, we need to first understand it. Simply put, this technology is a unique way of transmitting sound by converting it into vibrations. These vibrations are then sent through your bones directly to your inner ear. It's a bit like having a shortcut for sound, bypassing the eardrum and outer ear entirely.
It's a complex process, but it's the backbone of innovations like bone-conduction headphones. By pushing the boundaries of how we perceive sound, this technology opens up a whole new world of possibilities.
Mechanics of Bone-Conduction Technology
I am truly fascinated by how this technology works, and you'd be amazed by the science behind it. Essentially, it bypasses the eardrum, sending vibrations directly to the cochlea – the hearing part of your inner ear. This is achieved through transducers that convert electrical signals into mechanical vibrations.
Quite the spectacle of science, isn't it? This unique method of sound transmission opens up a world of potential applications, which we'll explore further in the next section.
Applications of Bone-Conduction Technology
This innovative technology isn't just confined to creating ground-breaking headphones. In the world of medicine, it's a lifesaver, particularly for individuals with conductive hearing loss. By bypassing the eardrum, sound can be transmitted directly to the inner ear, making communication possible for those who otherwise couldn't.
But that's not all. It's also gaining traction in the military sphere, providing soldiers with a hands-free communication system that doesn't obstruct ambient sounds. The potential applications for this technology are exciting, and I can't wait to see what's next.
Use of Bone-Conduction Headphones
There are numerous instances where bone-conduction technology offers significant advantages. For example:
Outdoor Activities: Bone conduction headphones are perfect for outdoor activities such as running, cycling, or hiking because they allow the user to hear their surroundings, which is crucial for safety.
Water Sports: Many bone conduction headphones are waterproof, making them suitable for swimming and other water activities.
Driving: These headphones allow drivers to listen to music, podcasts, or navigation instructions without blocking their ability to hear sirens, horns, or other road noises.
Workouts: Their sweat-resistant feature makes bone-conduction headphones perfect for rigorous gym sessions or outdoor workouts.
For Hearing Impaired: People with certain types of hearing loss may find bone conduction headphones more useful than traditional headphones because these headphones bypass the outer and middle ear and stimulate the inner ear directly.
At Work: These headphones can be used in office settings to listen to music or take calls without blocking out background noise, allowing the user to still be aware of the surrounding environment.
Cycling: Cyclists can benefit from using bone-conduction headphones as they can listen to music or directions while still being able to hear traffic and other potential hazards.
Military Use: Some militaries use bone conduction technology to communicate in the field while maintaining situational awareness.
Advantages of Bone-Conduction Headphones
Awareness of Surroundings: One of the key advantages of bone conduction headphones is that they allow you to listen to your music or calls while still being aware of your surroundings. This is because they don't cover your ears, allowing you to hear ambient noise.
Comfort: Unlike traditional headphones, bone conduction headphones don't go in your ears or over them, which can reduce the discomfort or ear fatigue caused by prolonged use of traditional headphones.
Accessibility for the Hearing Impaired: For those with certain types of hearing impairment that affect the outer or middle ear, bone conduction headphones can be a great solution as they transmit sound directly to the inner ear through the bones of the skull, bypassing the outer and middle ear.
Safe for Ear Health: Since bone conduction headphones don't emit sound directly into your ear canal, they can be safer for your ear health in the long run. They reduce the risk of ear damage from prolonged exposure to loud music.
Waterproof Models: Many bone-conduction headphones are designed to be waterproof, making them perfect for use during workouts or even while swimming.
Good for Workouts: These headphones often have a stable, secure fit which makes them suitable for various physical activities.
Disadvantages of Bone-Conduction Headphones
Sound Quality: While bone conduction headphones provide decent sound quality, they may not match up to the audio quality of traditional headphones, especially in terms of bass depth.
Price: Bone conduction headphones are often more expensive than traditional headphones with similar sound quality.
Battery Life: Due to the technology used, bone conduction headphones often have a shorter battery life compared to traditional headphones.
Comfort: While the design alleviates the discomfort of in-ear or over-ear headphones, wearing bone-conduction headphones for an extended period of time can sometimes cause mild discomfort in the area where the headphones sit.
Background Noise: Since bone-conduction headphones do not block out ambient noise, they may not be the best choice for people who want to use them in noisy environments.
Vibration: At high volumes, some users may feel excessive vibration, which can be uncomfortable.
Types of Bone-Conduction Headphones
There are several types of bone-conduction headphones, each serving different needs and preferences. The most common type is the wireless, which wraps around the back of the head and rests on the cheekbones, transmitting sound through bone vibration. However, there are more types:
Wireless Bone Conduction Headphones: These types of headphones connect to your device via Bluetooth, allowing you to listen to your music or calls without the need for a physical connection. They offer great freedom of movement, making them ideal for sporting activities. Examples include the Aftershokz Aeropex and the Vidonn F1 Titanium.
Wired Bone Conduction Headphones: Although less common, there are some wired bone conduction headphones available. These are typically cheaper than their wireless counterparts, but they do not offer the same freedom of movement. They connect to your device via a cable, similar to traditional wired headphones.
Waterproof Bone Conduction Headphones: These are designed for use in wet environments such as swimming pools or when running in the rain. They are built to withstand being submerged in water for a certain period of time. The Aftershokz Xtrainerz is an example of a waterproof bone-conduction headphone.
Sport Bone Conduction Headphones: These headphones are designed with sporting activities in mind. They offer a secure fit to ensure they stay in place during vigorous exercise, and they are often sweat-resistant. The Aftershokz Titanium and the Eken Bone Conduction Headphones are examples of sport bone conduction headphones.
Bone Conduction Headphones with Built-in MP3 Player: Some bone conduction headphones, such as the Aftershokz Xtrainerz, come with a built-in MP3 player. This allows you to load your music directly onto the headphones and listen without needing to connect to a device. This is particularly useful for activities such as swimming where you cannot take your device with you.
Recommended Models
Now, let's see some recommended models I found on the market for those, who want to try out this extraordinary technology:
Features and Specifications of Recommended Models
Comparison of Recommended Models
| Model | Sound Technology | Water/Sweat Resistance | Bluetooth Version | Battery Life | Built-in Microphone | Special Features |
| --- | --- | --- | --- | --- | --- | --- |
| Aftershokz Aeropex | PremiumPitch 2.0+ | Yes | Bluetooth 5.0 | Up to 8 hours | Yes | Moisture detection alert |
| Vidonn F1 Titanium | Standard | Yes | Bluetooth 4.1 | Up to 6 hours | Yes | Durable design |
| Aftershokz Titanium | PremiumPitch | Yes | Bluetooth 4.1 | Up to 6 hours | Yes | Secure fit for workouts |
| Tayogo | Standard | Yes (Waterproof) | Bluetooth 5.0 | Up to 6 hours | Yes | Designed for swimming |
| YouthWhisper | Standard | Yes | Bluetooth 5.0 | Not specified | Yes | Lightweight design |
| Pyle | Standard | Yes | Bluetooth 4.1 | Up to 6 hours | Yes | Comfortable design |
| Aftershokz Xtrainerz | Standard | Yes (Waterproof) | No (Built-in MP3 player) | Up to 8 hours | No | 4GB built-in storage |
| JUHALL | Standard | Yes | Bluetooth 5.0 | Up to 6 hours | Yes | Comfortable fit |
| Aftershokz Bluez 2S | PremiumPitch | Yes | Bluetooth 4.0 | Up to 6 hours | Yes | Comfortable fit |
| Aftershokz Air | PremiumPitch | Yes | Bluetooth 4.2 | Up to 6 hours | Yes | Lightweight design |
Frequently Asked Questions
Who can use bone-conduction headphones?
Bone-conduction headphones can be used by a wide range of individuals due to their unique design and functionality. This includes those with hearing impairments, as these headphones bypass the eardrum and directly stimulate the auditory nerve.
They are also suitable for individuals who need to remain aware of their surroundings, such as cyclists or runners because they do not obstruct the ear canal. Additionally, individuals who struggle with in-ear or over-ear headphones due to discomfort may find bone-conduction headphones a more comfortable alternative.
Professionals working in noisy environments may also find these headphones useful as they allow for clear communication without blocking ambient noise.
Does bone conduction damage hearing?
There is currently no scientific evidence to suggest that bone-conduction headphones cause damage to hearing.
Which is better air or bone conduction?
The determination of whether air or bone conduction is better greatly depends on the context and individual needs.
Air conduction is the typical way most people hear, where sound waves travel through the ear canal and vibrate the eardrum. This method is generally more natural and can deliver a full range of frequencies, making it better for everyday listening and understanding speech.
Bone conduction, on the other hand, bypasses the eardrum and sends vibrations directly to the inner ear through the skull. This can be beneficial for individuals with certain types of hearing loss, such as conductive hearing loss, or for those who need to keep their ears free to hear ambient sounds, like cyclists or runners.
However, bone conduction often provides a narrower range of frequencies and may not deliver as rich a sound experience as air conduction.
In conclusion, neither air nor bone conduction is inherently better—they each have their advantages and are suited to different situations and needs. It is advisable to consult with a healthcare provider or audiologist to determine the best method for individual circumstances.
Conclusion
In wrapping up, it's clear that bone–conduction headphones offer an innovative approach to listening. They're a versatile, adaptable, and often safer option, particularly for those who need to stay aware of their surroundings.
To find the right pair, you'll need to look at different models and consider your specific needs. Remember, it always pays to do your research. These headphones could very well change the way you experience sound.
Our Mission: At AudioInspects, we are dedicated to providing the most comprehensive and authentic reviews of audio equipment on the market. We conduct independent testing and research of products, so you can make an informed decision before making a purchase. Our mission is to help you find the best audio equipment to improve your listening experience. So trust us to deliver the most reliable recommendations and advice.
Disclosure: When you do decide to make a purchase through our links, please note that we may earn a commission, but this does not affect the honesty of our reviews. You can read our affiliate disclosure in our Disclosure.