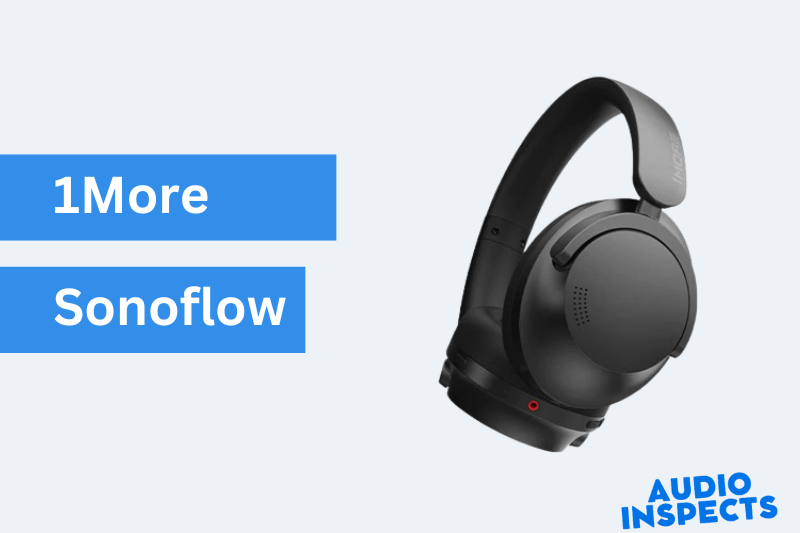 We're reader-supported. When you buy through links on our site, we may earn an affiliate commission.
A pair of carefully selected headphones can transform your meditation journey, creating an immersive experience that takes you deeper into the practice. The 1More Sonoflow headphones offer unparalleled benefits, making them the best fit for those who seek meditation headphones.
In this review, we'll dive deep into the features that make the 1More Sonoflow headphones the ultimate tool for meditation enthusiasts looking to take their practice to the next level.
1More Sonoflow Review
Design
The 1More Sonoflow headphones offer a sophisticated and contemporary design that belies their affordable price point. With a premium finish and subtle metallic sheen, these headphones look and feel more expensive than they actually are.
Additionally, they are lightweight and comfortable to wear even during extended listening sessions. Crafted with premium materials and incorporating cutting-edge audio technology, the 1More Sonoflow headphones deliver a high-quality listening experience that is sure to impress even the most discerning audiophile.
The 1More Sonoflow has a sleek and modern design that looks more expensive than it actually is. The finish feels premium and has a slight metallic shimmer to it. Their lightweight construction and comfort make them ideal for extended wear.
Sound Quality
The 1More Sonoflow is an impressive headphone to have in its price range; it offers great sound quality and thumping bass. With LDAC support, it outperforms many other more expensive ANC headphones.
Moreover, it produces rich highs and depths, add in the fact that it streams high-res audio files with ease and you really get quite a lot of bang for your buck.
Therefore, the 1More Sonoflow provides an excellent value proposition to the consumer who appreciates both good features and sound quality at an affordable price point.
Comfort
The 1More Sonoflow is a great choice for those who prioritize comfort in their headphones. It boasts a lightweight design and plush earpads that provide a cushioned fit that won't weigh heavily on your ears.
With a simple and adjustable headband, you can find the optimal fit that isn't too loose or snug. Enjoy unparalleled comfort and convenience with this custom adjustment! This attention to detail ensures that you can wear the 1More Sonoflow for extended periods without experiencing any discomfort.
Overall, the comfort level of the 1More Sonoflow makes it an excellent option for long listening sessions, and you won't have to sacrifice sound quality for comfort.
Battery Life
If you're searching for a new pair of wireless earbuds, it's essential that you prioritize battery life. That's why the 1More Sonoflow stands out with its exceptional battery performance.
Enjoy up to twenty hours of uninterrupted sound quality without any battery anxiety; a single charge can last you the entire day and night. This means you can take them on long commutes, travel, or even use them during intense workout sessions without interruption.
In short, the 1More Sonoflow offers the perfect balance of convenience and performance that discerning listeners demand.
Value
Are you searching for headphones that won't break the bank, yet still provide crystal-clear sound? Look no further than the 1More Sonoflow. These headphones boast a sleek and modern design, accompanied by a sound quality that rivals higher-priced models.
Additionally, their comfort allows you to wear them for extended periods of time; and with a battery life tough enough to resist the test of time, you'll never need another charge. When it comes to value for your money, the 1More Sonoflow is a standout contender.
Despite its economical cost, this model offers amazing features that will provide lasting satisfaction.
What we like/dislike
Why Is It The Best Meditation Headphones?
The 1More Sonoflow headphones offer several features that make them ideal for meditation enthusiasts. Firstly, the noise-canceling capabilities of the headphones create a tranquil and distraction-free environment that is essential for deep meditation.
This feature ensures that the user can focus entirely on their breath and inner thoughts without any external disturbances. Additionally, the soft and comfortable earpads of the headphones make them ideal for extended use, allowing the user to meditate for longer periods of time without any discomfort.
Lastly, the impressive sound quality delivered by the 1More Sonoflow headphones provides an entirely immersive experience that helps the user to stay focused and engaged during their meditation sessions.
Overall, these features make the 1More Sonoflow headphones an excellent choice for meditation enthusiasts looking to enhance their practice.
FAQs About 1More Sonoflow
Verdict
In conclusion, the 1More Sonoflow headphones offer an excellent value proposition for those seeking a pair of noise-canceling headphones with good sound quality, comfort, and affordability.
The noise-canceling capabilities of the headphones create a distraction-free environment, making them ideal for meditation enthusiasts. Crafted with lightweight materials and cushioned earpads, these headphones are designed to be comfortable for long-term wear. In addition, the impressive sound quality immerses you in your music or movie like never before.
Nevertheless, the design may appear less visually appealing than some of the more costly headphones and phone calls through it tend to be slightly distorted.
Despite these flaws, the 1More Sonoflow headphones remain an excellent choice for those looking for a cost-effective option with favorable features without compromising on sound quality.
Disclosure: I may receive affiliate compensation for some of the links below at no cost to you if you decide to purchase a paid plan. You can read our affiliate disclosure in our Disclosure. This site is not intending to provide financial advice. This is for entertainment only.